A little strange, at first sight, method of use of watermelon – as fresh. But this is the explanation. Some very young kids do not like to eat it with slices. Ще й кісточки їх дратують. But juice like all children without exception. Ago, if you still want, that your baby has received the necessary vitamins – Prepare fresh-juice with watermelon. Remember, ripe watermelon that can only be the middle of August. Do not buy watermelons before – not rizikuyte.
Ingredients: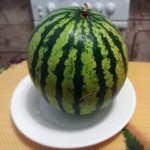 watermelon;
also need a mixer
plastic and glass.
Method of cooking: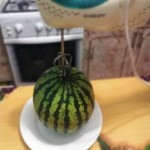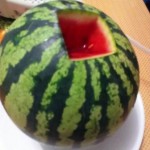 Cut watermelon in square or round hole of this size, he was able to pass whisk mixer.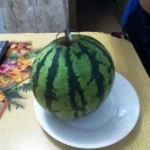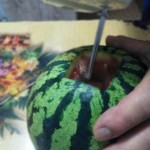 Поступово занурюйте в кавун вінчик

, rotating at low speed. Treat all flesh mixer.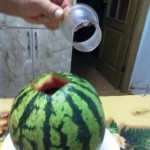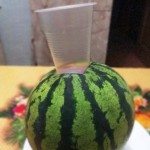 After, as pulp and not all of it will turn into juice,

вставте в отвір пластиковий стаканчик з обрізаним дном

.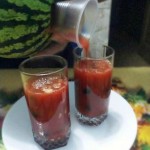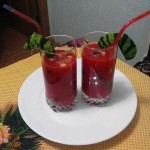 Spill fresh in a glass tube and insert cocktail. Drink fresh-juice of watermelon is necessary immediately after preparation. Bon!