When I decided to prepare this dish, it came up a famous phrase: "It's good to have a house in the village".
How it's nice to cook dishes from their own potatoes! What smells homemade meat!!! Mmmm ...
But all this would not have been, if not parents, living in the same "domiku" and not imposing forces housewives! BIG THANKS TO THEM!!!
Ingredients: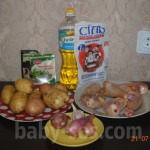 New potatoes – 10 large pieces
Chicken shin – 6 pcs
Salt, pepper, Italian herbs to taste
Oil
Method of cooking: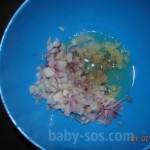 Prepare marinade for chicken legs: finely chopped onion, crush garlic, I add salt and pepper and poured oil. Stir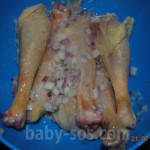 In pre-washed and do obsushenny legs knife cuts, I put in the marinade, scrubbed and sent to the refrigerator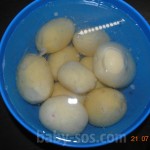 Meanwhile clean potatoes. And heats the water in the kettle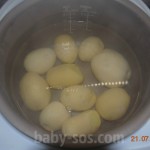 I put the peeled potatoes to Multicookings. Pour it boiling water. Prisalivaem little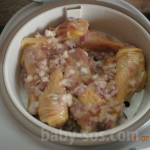 Meat put to the container- Steamers. Opt Mode "Steaming" i put a timer on 40 minutes.
Р.S. For new potatoes 40 minutes – too many. But personally I like, When potatoes falling apart, when her eat. If you do not taste, then remove the potatoes before, pour in another pan and something warm Wrap, that it is not cooled before, than cooked shin.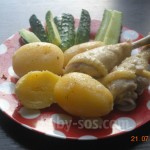 After the beep ready meal