Already nearing time to apples!
You can prepare desserts many of these fragrant and juicy fruit!
Your attention we offer the original recipe of apple pie with a minimum use of flour.
Ingredients: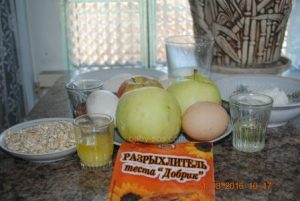 Flour-60g
Sugar - 150g ( 70g dough, 80g in the fill)
Loosener - 15g
Eggs - 3 PC (2 of dough, 1 fill in)
Milk - 90ml
Cognac - 1 st.l.
Oil odorless - 2 st.l.
Oil - 2st.l.
Apples - 3 PC. (large fruit)
Petals of almonds - 3 st.l. (can replace conventional Hercules flakes)
Method of cooking:
Sieve the flour into a bowl, add sugar (70g) and baking powder. Mix.

Beat 2 eggs to foaming.

Pour egg mixture to flour. Mix.

Vlivaєmo milk. Mix.

Add the cognac and oil.

Prepare the filling for the pie. Cut apples into thin slices.

We translate apples to the test. Mix.

Zastelyaєmo shape parchment. Pour mixture into apple. spread.

Put the cake on 25-30 minutes in the oven to warm up 200 degrees.

Prepare the filling. Beat 1 egg and 80g sugar and 2 st.l butter melted and cooled slightly.

In a frying pan dried oatmeal.

Dostayemo and pour apple pie filling. Again, put the cake in the oven for 10-15 min. Bake until golden brown.

Cool the cake in the form of.

Then put the cake in the refrigerator to, because so it tastes even better!