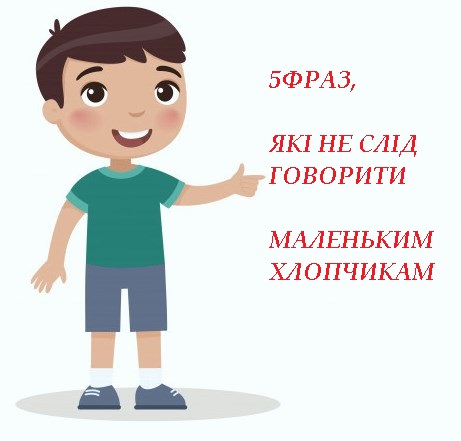 BOYS DON'T CRY!
For some reason we got used to it, that boys should not show their tears. Someone put adults in our heads, what if the boy cries, then it is a manifestation of weakness. They also came up with a humiliation, calling them "cries", "Grandmothers", "Nurses"… And in fact, tears are the safest way out of negative emotions.
If the baby's eyes are wet, it is best to say: I understand. You are sad / painful / unpleasant. But it will pass.
YOU ARE A COWARD?THE BOYS ARE NOT AFRAID!
It is normal to feel fear. Even adult men can feel fear in some situations. So why do we require little boys to be brave and stop being afraid of the dark in an instant, dogs, of water, height or other hazards. Fear is the basic basis of self-defense.
When you see, that your child was scared, tell me: So, you are scared / scared. I understand you. But you can handle it (we will cope together / let me help you).
GIRLS CANNOT BE INJURED!
This is also one of the old stereotypes. We do not want to say now, that girls need to be beaten, but these representatives of the beautiful half can "give heat", more boys themselves. And therefore it is better to bring up the boy, without focusing on gender: NO ONE can be offended, but DO NOT ALLOW ANYONE to offend yourself.
SHAME ON YOU, YOU ARE A BOY?!
Feelings of shame destroy the adult, not to mention the nursery. When a child hears similar phrases, then perceives it so, as if "she is bad, does that, that is not expected of her. And because of that it should feel bad. ". This is a kind of manipulation. Think, do you personally like it, when you are manipulated???
If you don't like your son's action, then say so: This is a bad thing and I am very unhappy. But I still love you. Please, don't do that anymore! Let's discuss, what can be done next time in a similar situation.
WELL DONE, WHAT A GOOD BOY!
It would seem, what's wrong with this phrase? And if this phrase sounds on autopilot, not paying attention to the specific merits of the child, then this is the wrong praise. After all, the child will eventually try to just please you, be comfortable. And if as a child you can not earn your love, then in adulthood will constantly please others, showing his "goodness".
You did it much better, than I expected / in. It was so cool done. You can be proud of yourself! These phrases will become more appropriate,if you want to praise your son.
Finally, I want to say: speak and treat the child this way, as you wish, that she treated herself!
Want to know, how to raise a child a good assistant? Read our article.