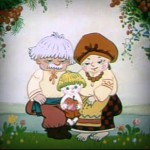 Ivasik Telesyk – Ukrainian folk tale. The long-awaited sonny, lovely boy, Little Helper their parents in distress. Disasters Snake fraud stole him from the shuttle on the lake. But escape Ivasik Telesyk helped his wit and good husenyatko.
video version of tales here.
Thank you for fairytale "Ivasik Telesyk" talented and experienced reader, – Dmitry Buzynskomu. It was his gift to our website. Perfectly, that there are people, who do not mind to spend part of his precious time for children – our little listeners.